Cleveland Browns mascot Swagger honored in celebration of life ceremony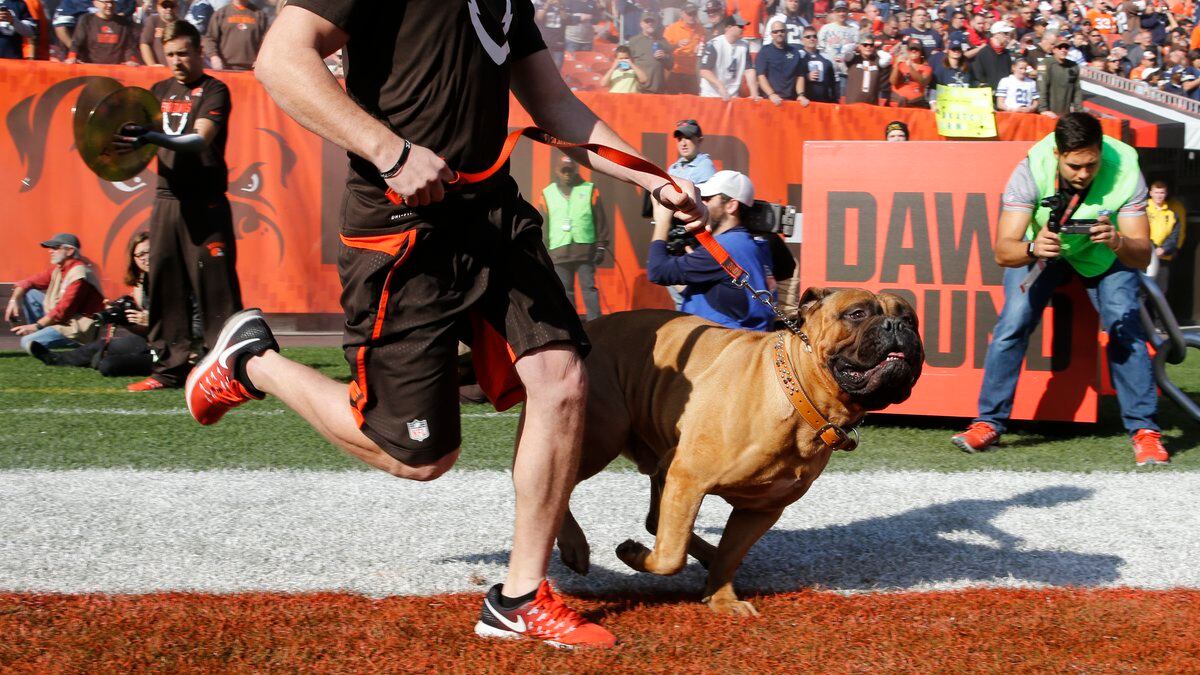 Updated: Feb. 22, 2020 at 6:13 PM EST
CLEVELAND, Ohio (WOIO) - Cleveland Browns fans gathered to honor Cleveland Browns mascot Swagger in a celebration of life ceremony on Saturday.
The 145-pound bullmastiff was 6-years-old when he passed away suddenly at the vet's office while getting checked for complications from pneumonia.
Fred and Debby McLaughlin were the certified member of the American Kennel Club member's human parents.
Their son, Justin, was Swagger's on-field handler who ran out of the tunnel alongside him.
The family decided to honor Swagger with a celebration of life ceremony at DeJohn Funeral Homes in Willoughby Hills, where Sherri DiPietro specializes in pet services.
"We are saddened to have lost Cleveland football teams first live mascot. Hosting a memorial service for the community is an opportunity for his family and fans to say goodbye and for our community to gather and remember Swagger," said Sherri DiPietro, DeJohn Pet Care Specialist. "Pets are a very special part of the family and should be treated as such. We care for a family's pet with the utmost dignity, respect and compassion by people who are pet parents."
"While we are very sad to have Swagger leave us, we know he brought much joy to families and children that visited the stadium. A lifelong Cleveland fan myself, we feel fortunate to host this opportunity to join in his celebration of life," said Ross DeJohn Jr. Chief Executive Officer and Funeral Director.
DeJohn and his family have been Browns season ticket holders since 1960.
Swagger has seen all the ups-and-downs with the Browns since first being introduced by the team five years ago as their first live mascot.
He ran through the tunnel at FirstEnergy Stadium for every home game over the past five seasons until his son, SJ for Swagger Jr., took over the celebratory duties with Justin on Nov. 10.
SJ was just 11 months old when he picked up where Swagger left off by making regular appearances with the Dawg Pound and at community events.
Debby McLaughlin said SJ and Swagger were inseparable.
During the service, she said SJ was initially confused when she and her husband returned home from the vet without Swagger.
To help him understand that Swagger had passed, DiPietro had SJ come into the DeJohn Pet Services room to visit his dad.
These photos of the special moment McLaughlin shared showed just how close of a bond the four-legged father and son had:
SJ also stayed right by his four-legged dad and his human parents the whole time during the celebration of life ceremony.
Both SJ and Swagger are from a breeder in Rootstown.
Copyright 2020 WOIO. All rights reserved.