Horizon Science Academy of Lorain hosts parade to salute graduating seniors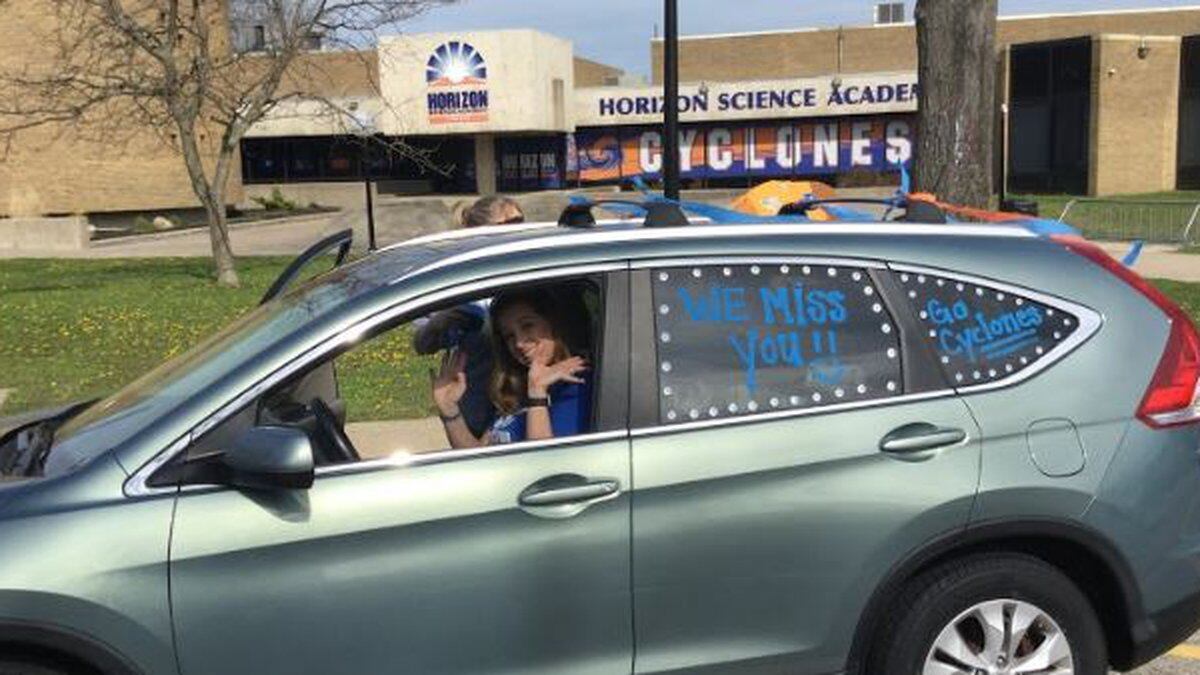 Published: May. 2, 2020 at 11:32 PM EDT
LORAIN, Ohio (WOIO) - The Horizon Science Academy of Lorain hosted a special parade to salute graduating seniors. Teachers and staff members formed a colorful and noisy caravan on Saturday, May 2 to recognize the class of 2020.
Nearly 40 cars decorated with streamers and balloons participated in the caravan which departed from the school's parking lot.
The caravan made scheduled stops at all of the seniors' homes where a specially designed congratulatory sign was placed in the front yard.
"Many of these students have been with us since kindergarten, so we were determined to identify a means to celebrate this journey with them and congratulate them on their accomplishments," said Jayson Bendik, assistant principal at Horizon Science Academy Lorain. "COVID-19 has already taken its toll on our schools, forcing us to shut down nearly overnight without the opportunity to host all of our typical year-end activities, including barbecues, college signing day, and career readiness day. These students mean a lot to us and we felt they deserved better."
Like all schools in Ohio, Horizon Science Academy of Lorain is in the midst of trying to figure out how to best host graduation while adhering to the Governor's social distancing guidelines. According to Bendik, this year's graduation ceremony will either be a virtual experience or drive-through event.
Photo Gallery:
"We are doing everything we can to make the end of their high school experience as normal as possible," said Bendik. "These students have worked hard. Many of them faced additional barriers to learning; yet, they persevered and are a testament of what hard work can produce. We are so happy that we are able to recognize them, even if it's not in a traditional manner."
Copyright 2020 WOIO. All rights reserved.