Only 28/164 cities tracked by National Weather Service are colder than Cleveland today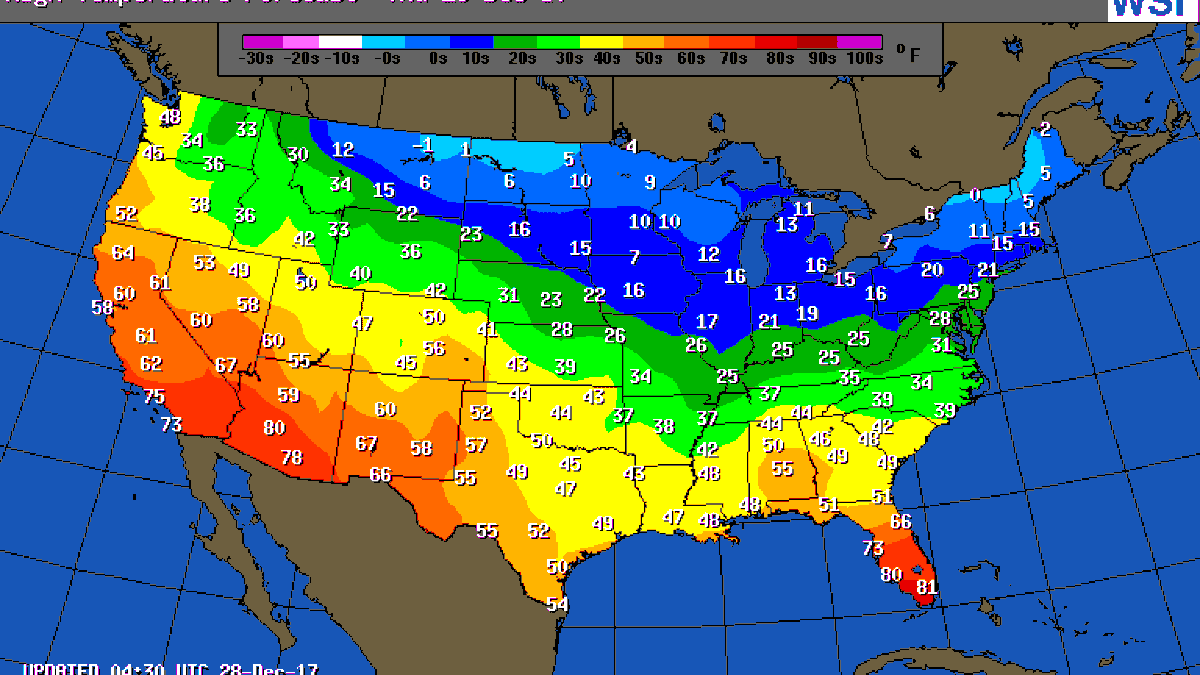 Updated: Dec. 28, 2017 at 2:12 PM EST
CLEVELAND, Ohio -- It's warmer in Anchorage, Alaska (16 degrees) than it is in Cleveland (13 degrees) today.
The Midwest is under a deep freeze for the next week or so with temperatures not climbing above freezing until the middle of January.
At the time this was published, Cleveland had a high of 13 degrees, according to the National Weather Service. Tonight's low is expected to be 11 degrees in Cleveland.
There are only 28 places out of 164 cities tracked by the NWS that are colder than Cleveland in the United States today.
Bismarck, N.D. 9 degrees

Burlington, Vt. 10 degrees

Caribou, Maine 1 degree

Chicago, Ill. 7 degrees

Des Moines, Idaho 6 degrees

Duluth, Minn. -3 degrees

Fairbanks, Alaska 2 degrees

Fargo, N.D. 3 degrees

Flint, Mich. 9 degrees

Fort Wayne, Ind. 12 degrees

Green Bay, Wis. 2 degrees

Indianapolis, Ind. 11 degrees

Kansas City, Mo. 12 degrees

Lansing, Mich. 11 degrees

Lincoln, Ark. 8 degrees

Madison, Wisc. 5 degrees

Milwaukee, Wisc. 7 degrees

St. Paul, Minn. 5 degrees

Omaha, Neb. 7 degrees

Peoria, Ill. 8 degrees

Rapid City, S.D. 7 degrees

Rockford, Ill. 5 degrees

St. Louis, Minn. 12 degrees

Sault Ste. Marie, Mich. 3 degrees

Sioux City, Iowa 6 degrees

Sioux Falls, S.D. 8 degrees

South Bend, Ind. 10 degrees

Springfield, Ill. 11 degrees
Based on average temperatures, Dec. 27 marked the start of the coldest time of year in Northeast Ohio.
The bad news is that it's the coldest week of the year and this year Cleveland is much colder than the average.
-- RELATED: 7 Cleveland restaurants to get spicy food to warm up during this deep freeze (photos) --
The good news is that if yesterday marked the start of the coldest time of the year, it will only get warmer, on average, from here until the summer.
From Dec. 27 to Feb. 3, the average high temperatures are just 34 or 35 degrees with average lows of 23 to 21 degrees.
The forecast in Northeast Ohio is calling for highs in the teens and lows in the single digits.
On top of that, the windchill is making it feel even more dangerously cold. Get your full forecast here.
Download the Cleveland 19 News app and First Alert Weather app.
Copyright 2017 WOIO. All rights reserved.